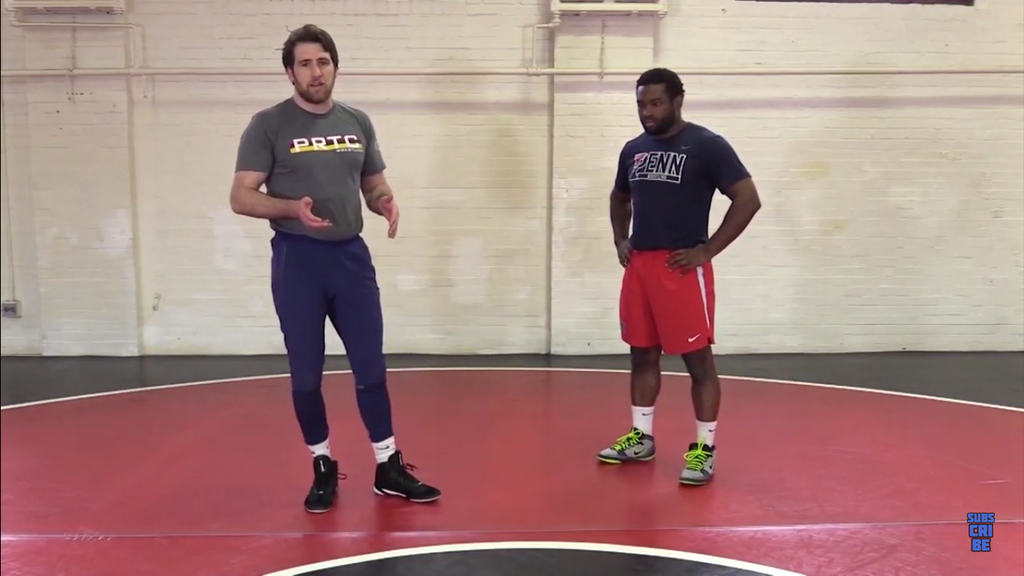 Ankle Picks On Demand With Bryan Pearsall
When musicians are in the studio and they are trying to nail a piece of a song but are having trouble playing it they call in a expert musician. Usually someone not famous outside of a musicians or recording artist circle. They come in, do the job right, get paid and leave. This pattern of "pay for play" has earned them the name "Hired guns".
Hired Guns exist in all fields that require technical expertise. Sometimes sports teams will bring a player in just for one season to accomplish a specific goal. Or a famous person needs someone to help write their autobiography, a ghost writer is a type of hired gun as well.
It is no surprise with as competitive as college wrestling is that when teams have problems they bring in additional coaches to sort things out. 
With a successful wrestling career at Penn State Bryan Pearsall has made the transition into coaching pretty well. Being a mainstay at Penn Athletics Bryan has helped recruitment retain several national qualifiers. 
While his primary role is back close to his alma mater he was called to help a school nearby. 
The Rutgers Scarlet Knights needed help with their lower weight wrestlers on the roster and that is exactly what Bryan excels at. It was Rutgers last season in the EIWA conference and they wanted to go out with a bang. With Bryans help, they did just that. 
The Scarlet Knights Finished their season 11-5 at duel meets and placing 3rd overall at the EIWA Championships is not a bad way to end your stead in a conference. This also sent a big message to their new conference that Rutgers was coming to play and play hard.
After Rutgers a Knight of a different color called. The West Point Black Knights needed some help. So the hired gun was off to serve the US Army and help bring their program up to prominence. 
Check out Bryan's instructionals here! Click Learn More!
During his time at West Point Bryan helped create 13 NCAA National qualifiers and 18 EIWA National Placewinners. This not only brought the Army's team up in the EIWA rankings the higher rank makes recruiting top tier athletes easier. 
Bryan Pearsall has done an amazing job wherever he goes. It proves you don't always have to be a champion to produce them. Being one of Cael Sandersons starters it comes as no surprise that he is good with the ankle pick. Cael was legendary with it and it helped him go undefeated through highschool and college. 
Most seasoned wrestlers will have picked up a few tricks utilizing an ankle pick in one way or another. It is too bad that we don't see it more often in tournaments or at the college level. It is plausible that it's lack of use is due to poor setups and consequences of failure. 
Bryan takes a different approach to ankle picks. Bryan sets up the ankle pick from just about everywhere. Tie up? Ankle pick. Short Offense? Yup Ankle pick. Defense? You guessed it Ankle pick. 
That last one though is a true sleeper of a move. No super athleticism or flexibility is required. Just timing which anyone can acquire through drilling and wrestling during live practice! After a good sprawl Bryan doesn't give any ground and let's his opponent work his way back to their feet. Since their head is close to their knee the ankle pick is if you will pardon the pun "Easy Pickins". 
Check it out!
Bryan has a wealth of knowledge when it comes to the ankle pick. He literally has setups and transitions from anywhere you can think of. This is why his instructional series is aptly names "Ankle picks from everywhere" you can find that here!
If your wrestling game needs a tweak or you are looking to add in some solid attacks there is no better place to start. The transitions you will learn are gold and incredibly practical. Nothing that is athletically crazy but from a surprise point of view will have your partners and coaches taking notice of your new system fast! 
Don't take my word for it, Check it out!