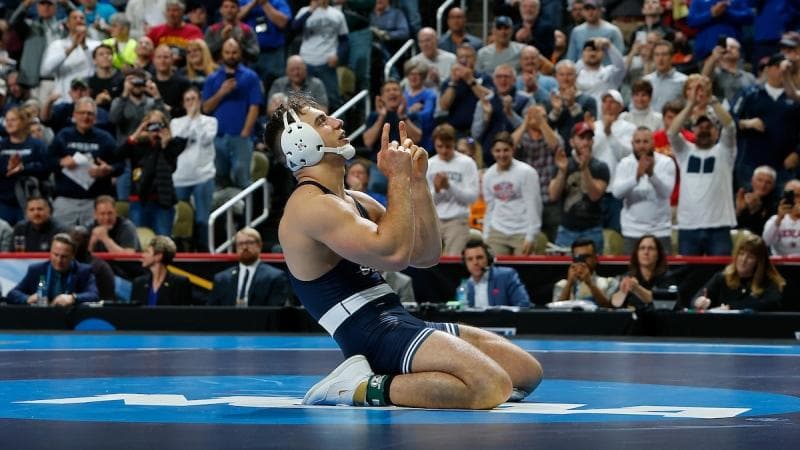 2019 NCAA Wrestling Championship Placement Match Results
After another great year of NCAA wrestling championship action, here at the placement match results from the 2019 championship tournament.  Everyone in the top-8 placements is awarded with All-American honors, and the winners of the championship bout have accomplished something at the highest level of folkstyle wrestling.
125:
1st: Spencer Lee (Iowa) dec. Jack Mueller (Virginia), 5-0
3rd: Sebastian Rivera (Northwestern) dec. Vito Arujau (Cornell), 8-3
5th: Nick Piccininni (Oklahoma State) pinned Pat Glory (Princeton), 5:29
7th: RayVon Foley (Michigan State) dec. Ronnie Bresser (Oregon State), 7-4

133:
1st: Nick Suriano (Rutgers) dec. Daton Fix (Oklahoma State), 4-2 SV
3rd: Stevan Micic (Michigan) dec. Luke Pletcher (Ohio State), 6-1
5th: Austin DeSanto (Iowa) dec. John Erneste (Missouri), 11-6
7th: Ethan Lizak (Minnesota) dec. Roman Bravo-Young (Penn State), 8-5

141:
1st: Yianni Diakomihalis (Cornell) dec. Joey McKenna (Ohio State), 6-4 SV
3rd: Jaydin Eierman (Missouri) dec. Dom Demas (Oklahoma), 2-0
5th: Nick Lee (Penn State) pinned Mitch McKee (Minnesota), 3:22
7th: Kyle Shoop (Lock Haven) maj. dec. Chad Red (Nebraska), 11-3

149:
1st: Anthony Ashnault (Rutgers) dec. Micah Jordan (Ohio State), 9-4
3rd: Austin O`Connor (North Carolina) dec. Mitch Finesilver (Duke), 7-5
5th: Matthew Kolodzik (Princeton) dec. Brock Mauller (Missouri), 10-6
7th: Jarrett Degen (Iowa State) dec. Pat Lugo (Iowa), 11-9

157:
1st: Jason Nolf (Penn State) maj. dec. Tyler Berger (Nebraska), 10-2
3rd: Alec Pantaleo (Michigan) dec. Hayden Hidlay (NC State), 5-3
5th: Kaleb Young (Iowa) dec. Ryan Deakin (Northwestern), 7-5
7th: Christian Pagdilao (Arizona State) dec. Larry Early (Old Dominion), 3-2
Learn 3 Time NCAA Champion J'Den Cox's Way of Setting Up And Finishing Takedowns Against Anyone


165:
1st: Mekhi Lewis (Virginia Tech) dec. Vincenzo Joseph (Penn State), 7-1
3rd: Chance Marsteller (Lock Haven) dec. Evan Wick (Wisconsin), 6-5
5th: Isaiah White (Nebraska) dec. Josh Shields (Arizona State), 8-4
7th: Alex Marinelli (Iowa) dec. Bryce Steiert (Northern Iowa), 9-3

174:
1st: Zahid Valencia (Arizona State) dec. Mark Hall (Penn State), 4-3
3rd: Myles Amine of (Michigan) dec. Daniel Lewis (Missouri), 4-3
5th: David McFadden (Virginia Tech) dec. Mikey Labriola (Nebraska), 4-3
7th: Jordan Kutler (Lehigh) dec. Devin Skatzka (Minnesota), 5-1

184:
1st: Drew Foster (Northern Iowa) dec. Max Dean (Cornell), 6-4
3rd: Myles Martin (Ohio State) dec. Ryan Preisch (Lehigh), 5-3
5th: Emery Parker (Illinois) dec. Chip Ness (North Carolina), 11-5
7th: Dakota Geer (Oklahoma State) dec. Zack Zavatsky (Virginia Tech), 5-4

197:
1st: Bo Nickal (Penn State) dec. Kollin Moore (Ohio State), 5-1
3rd: Preston Weigel (Oklahoma State) dec. Patrick Brucki (Princeton), 7-1
5th: Josh Hokit (Fresno State) dec. William Miklus (Iowa State), 7-2 TB1
7th: Jacob Warner (Iowa) dec. Ben Honis (Cornell), 8-4

285:
1st: Anthony Cassar (Penn State) maj. dec. Derek White (Oklahoma State), 10-1
3rd: Gable Steveson (Minnesota) dec. Jordan Wood (Lehigh), 4-0
5th: Amar Dhesi (Oregon State) dec. Youssif Hemida (Maryland), 5-2
7th: Matt Stencel (Central Michigan) dec.Trent Hillger (Wisconsin), 3-1
J'Den Cox Uses Movement, Technique, And Traps To Set Up Takedowns That Have Won Him State, NCAA, National, And World Championships. See His Full System Here!