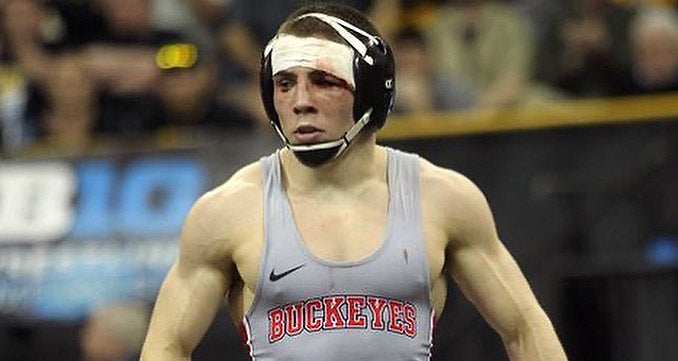 Nathan Tomasello
Nathan Tomasello is an accomplished American wrestler in the folkstyle and freestyle rulesets, well-known for his relentless style on the mats. Tomasello first achieved notoriety while competing for the Ohio State Buckeyes, where he earned All-American status on four occasions and an NCAA Division I title. From there, Nathan aimed at a successful international career earning multiple important medals to his credit, most notably the Alexander Medved International, the Bill Farrell Memorial, and the US Nationals.
Nathan Tomasello Wrestling

MAIN ACHIEVEMENTS

High School:
- 1st Place OHSAA D2 Championships (2013, 2014)
- 1st Place OHSAA D3 Championships (2011, 2012)

College:
NCAA D1 All-American Athlete (2015, 2016, 2017, 2018)
Big Ten Distinguished Scholar (2015, 2016)
- 1st Place NCAA D1 Championship (2015)
- 1st Place Big Ten Championship (2015, 2016, 2017, 2018)
- 3rd Place NCAA D1 Championship (2016, 2017, 2018)

Freestyle:
- 1st Place Ion Corneanu Memorial International (2017)
- 2nd Place US U23 World Team Trials (2017)
- 2nd Place Alexander Medved International (2017)
- 2nd Place Bill Farrell Memorial (2019)
- 2nd Place US Senior Nationals (2019)
- 3rd Place US Olympic Team Trials (2021)
- 3rd Place US World Team Trials (2017)
- 3rd Place US Open (2017)
- 6th Place US Open (2019)

Weight Division:
- 125 lbs (college)
- 57 kg (international)

Teams:
- Ohio State University (OSU)
- Cuyahoga Valley Christian Academy
Nathan Tomasello Biography
Nathan Tomasello was born on May 1, 1994, in the Parma District, Valley Forge, Pennsylvania, USA, where he grew up alongside his fraternal twin, Troy Tomasello.

As children, Nathan and Troy were teammates in a series of sports, including soccer, basketball, and baseball. They also attended their first ice skating lesson together, at the age of 8, at Parma's Ries Ice Rink. It was there that the brothers' sporting lives started to drift apart. While Troy enjoyed the lesson and wanted to pursue his tuition, (later joining the Strongsville Skating Club,) Nathan did not see the appeal and opted out.

As a 10-year-old, after the cancelation of a soccer training session, Nathan accompanied a friend to his wrestling practice where he was introduced to the mats. Much like his brother Troy had felt an quick connection with the rink two years prior, Nathan fell in love with grappling immediately.

When he reached high school, Nathan joined the Cuyahoga Valley Christian Academy and proved his worth on the institution's wrestling team, winning 4 Ohio State titles - the 23rd high schooler to accomplish the feat. His good form, particularly during his senior season where he went undefeated (51-0) earned Tomasello a place on the Ohio State University, one of the country's foremost collegiate wrestling programs.

During his first collegiate season (2013–14), Tomasello amassed an undefeated record of 19-0, competing as a redshirt athlete. He started competing for the team the following year, immediately conquering NCAA and Big Ten Conference titles. After his prosperous career at OSU, Tomasello turned to freestyle wrestling where his career remained fruitful, despite the limitations set by the Covid-19 pandemic during his transition.
Nathan Tomasello High Crotch Finish