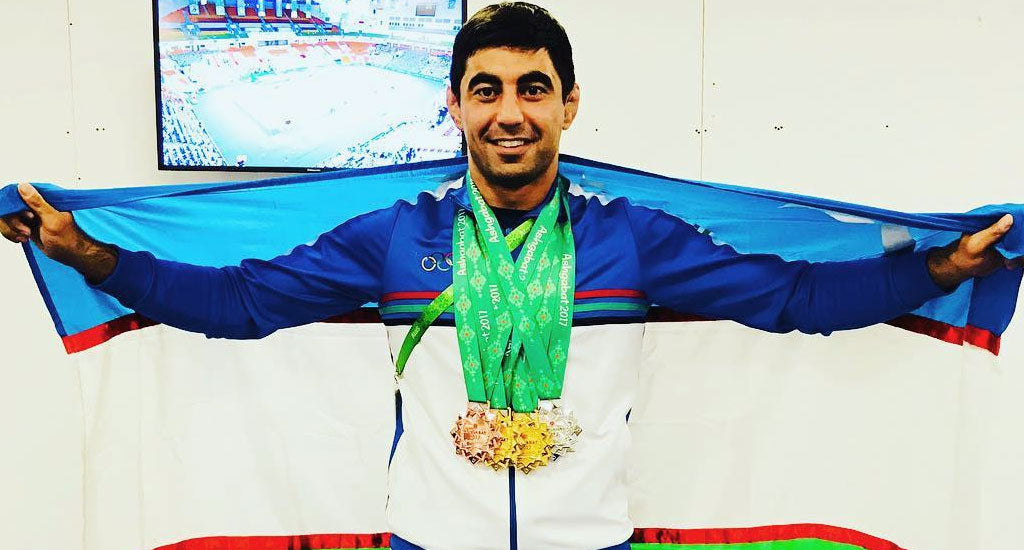 Bekzod Abdurakhmonov
Bekzod Abdurakhmonov is a freestyle wrestler from Uzbekistan, who represented his country at the 2016 Summer Olympics, where he defeated the tournament's favorite - Team USA's Jordan Burroughs (11-1). A World Championship and Asian Games medal placer, Bekzod Abdurakhmonov also played folkstyle rules in America's NCAA D1 where he achieved All American status for Pennsylvania's Clarion University in 2012.
Bekzod Abdurakhmonov Wrestling
MAIN ACHIEVEMENTS

Collegiate
- All American (2012)
- 1st Place PSAC (2011, 2012)
- 2nd Place NJCAA Nationals (2007, 2008)
- 3rd Place NCAA D1 (2012)

Senior
- Uzbekistan National Squad Member
- Competed in Summer Olympics (2016)
- 1st Place Asian Games (2014, 2018)
- 1st Place Asian Championship (2015, 2017)
- 3rd Place World Championship (2014, 2018)
- 3rd Place Islamic Solidarity Games (2017)

Weight Division: 70KG (senior)

Teams:
- Clarion University
- Kansas Junior College
- Harvard University (coach)
Bekzod Abdurakhmonov Biography
Bekzod Makhamadzhonovich Abdurakhmonov was born on March 15, 1990, in Uzbekistan, where he started wrestling at a very young age.
Climbing through the ranks in his country's competitive circuit, by 2008 Abdurakhmonov was a well respected junior wrestler. Unfortunately for him, as explained during an
interview with ESPN
in January 2018, his career suffered a major set-back that year.
While competing at a Uzbekistani tournament, Bezkod's opponent slapped the back of his head repeatedly in an attempt to bully the young athlete. The action caused Abdurakhmonov to lose his temper and punch his challenger, which in return earned him an immediate ban by the federation.
Given that the majority of his young life had been spent on the mats, practicing for greatness, this was a crushing moment of great despair for the Bezkod, who saw his life's dreams pass him by. Amidst the despair came a life-line. His older brother, who lived in the United States, advised him to try joining an American college where he could continue to practice his trade.
America had not been in the young wrestler's plans thus far and as he spoke no English whatsoever. As such, the only place that admitted Abdurakhmonov at the ime was a community college in Kansas known as the Colby Kansas Junior College. He studied hard, and with the help of his teachers, who devoted much of their spare time with one-on-one classes with Bekzod, he improved his grades which enabled a transfer to Pennsylvania's Clarion University, a college with a stonger wrestling program.
During his time at Pennsylvania's Clarion University, Bekzod Abdurakhmonov was able to reach All-American honors and earn himself a sports management degree (2014), after which Abdurakhmonov joined the Harvard's Wrestling program as a volunteer coach.
Bekzod Abdurakhmonov became a high ranked member of the Uzbekistan National wrestling team during his first year as a senior when he conquered a bronze medal at the World Championship in his home country. Continuing his good form, in 2016 Bekzod Abdurakhmonov would have his most famous win, against wrestling super-star Jordan Burroughs at the 2016 Summer Olympics. Bezkod would lose his bronze match in that tournament, to Jabrayil Hasanov of Azerbaijan.
While competing in wrestling, Bekzod Abdurakhmonov also picked up on a very successful cage-fighting career where he amassed a 7-0-0 career. Bekzod Abdurakhmonov Highlight